Gentle reader, I try to avoid swearing in my posts, but there is swearing in this one. Just a heads up.
I was first introduced to men as the default human (and the ideal) through language: he, him, mankind. God as Father and Son.
I remember having a conversation with our son when he was maybe 8 or 10, and he used "him" as a generic term. I asked him, "Please say 'him or her.'"
"But 'him' is general and includes everyone," he said.
"'Him' doesn't include me," I said. "How about you switch to saying 'her' to include everyone?" He immediately understood my position. "Her" didn't include him.
I had similar conversations with adults about God being a He. Those folks would be predictably condescending, like oh you cute thing, that's just language, and God's too big for language, and "Father" and "Son" and "He" really means God encompasses all.
Okay, then let Her be a She.
Male as default became apparent to me in other areas of language later in life, when I started my Andrea Reads America reading project, where I intentionally read books by women authors from each state. As I read women, I identified more with the characters, the stories, the broader inclusiveness of different types of people (ie, not just men, and not just women as sex objects). I was nearly 40 before I realized, holy shit, nearly all the books we read in school were by men and about male characters. And they didn't include me as a woman at all. There are books that are still taught in schools today where girls and women don't even exist: they are so inconsequential to the Very Important Ideas going on in the book that nobody thought to include them. (Which also, by the way, ingrains in us at an early age that girls and women don't matter or have anything to contribute, if they're not even present in the literature we select).
This teaches all of us that the male perspective is the default perspective: it's what's considered good and right, it explores lofty ideas, it's the Canon. It shouldn't come as a surprise that if man is the default in language, then man is the default in everything. Language is the foundation of how we explain and communicate our world, and it represents who we are and how we operate.
However, waking up can be a slow process. I didn't realize what it truly meant, at a fundamental, health and safety level, for man to be the default, until yesterday, when I listened to the 99% Invisible podcast episode Invisible Women. What it means for man to be the default is that our world is designed for men: for the male body, male chemistry, male driving patterns, male priorities. As a result, because women aren't considered at all when testing and making decisions, very few things are designed to take women's safety into consideration, including cars and, you know, medicine.
Women are disproportionately misdiagnosed for heart attacks and are more likely to die from them because female heart attack symptoms are different from male heart attack symptoms. Male heart attack symptoms are the default we are all taught and know.
Women are more likely to die from car crashes because cars are designed for a default male body type. Cars are tested with male crash test dummies which have completely different dimensions and proportions from female body types, and car designs are based on those crash tests.
Many drugs aren't tested on women because (women, you are going to die when you see this) periods are problematic.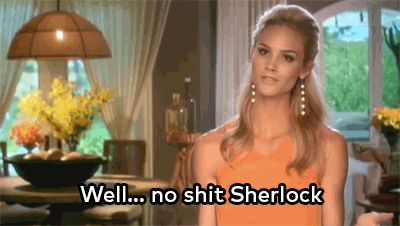 Now that I've had kids and my periods are on a 21 day cycle, I spend a full two thirds of my life dealing with my period. One week of the cycle I'm under the influence of hormones that leave me crippled with conviction that I suck at my job and everything I touch and that I'm worthless and that my family doesn't really love me they barely tolerate me because I'm not loveable I'm a monster. Another week I'm managing blood and underwear and tampons and diva cups, and I'm making sure I know where all the bathrooms are every time I go anywhere and God forbid if we're on vacation somewhere that we're going to swim and how will the sharks react in the ocean and will I have blood running down my leg when I get out of the pool. And then one week of the cycle — for one third of my life – I get to be normal and symptom free.
So, yes, periods are problematic. To 50% of the human population. Women have to deal with periods in our everyday lives, all the time and forever, and have since the beginning of time, so to anyone charged with testing medicine on women, figure it the fuck out. If periods affect test results, then they're going to affect a medicine's efficacy, and uh, shouldn't someone get on that?
When the world is designed with the male as the default, then anything that doesn't fit that default is considered problematic and therefore something to blame or fix, even if that non-default group is 50% of the population. Like with periods, or like women being "out of position" drivers in accidents and that's why the safety mechanisms failed.
As an example of needing to fix the people who are not the default, in the workplace we talk a lot about women's confidence, and how we need to do things to build women's confidence because women aren't confident enough compared to the men, and that's why women aren't going for promotions or sitting in the C-Suite. As Caroline Criado Perez, author of the book Invisible Women: Data Bias In A World Designed For Men, says in the podcast,
Yet study after study have shown that women are pretty good at assessing their skill, their intelligence, and actually it's men who tend to overestimate their skill and intelligence. And so when you see that you sort of have to think well maybe it's not the women who are rating themselves too low, it's the men who are rating themselves too high. We just never think of it that way. Since the male is the default, we just assume that that must be the right level.
I look at the world around us and how corrupt and broken everything is, and I have to think, uh, maybe we should rethink our default?
Thank you to Lizzie Keiper who suggested this podcast on Twitter.